It's fair to say that when you like riding bikes you like to ride nice bikes. This usually means spending lots of money…
The cost of having such an expensive whip caught up with me so I was forced to make the tough decision and downgrade from my 224 Evo with a Cane Creek shock, Boxxer Team fork, Saint brakes, etc. Gutted!
So, the search was on for something 2nd hand that was fairly cheap but durable enough to stand up to the beating I would unleash upon it. Straight away I looked at frames which have less travel but still a relatively slack head angle, the popular Specialized Pitch sprung to mind. There's a reason these bikes are so common: good angles; nice looks; light weight; and durable. But… you're still looking at spending £400 for one in an okay condition. This doesn't sound like much to some but I knew I could go cheaper still.
After searching on the numerous internet forums (*vomit*) and ebay I still couldn't find exactly what I was looking for. Until, Duncan Philpott discovered an almighty bargain on ebay at 1am on a Sunday morning, a Banshee Rune anodised black with a DHX Air 5.0 shock in mint condition for £275. I couldn't say no!
Here it is, not the best quality picture but you get the idea:

A few weeks later and I'm well on the way to getting grips with how it handles. When deciding on the kind of bike I wanted I knew it had to have between 140 and 160mm of travel. The Rune has 150mm of travel, perfect! For me, the sensation of riding a bike isn't about overall speed, it's about being as close to crashing as possible whilst still maintaining control and pushing the limits of grip. The Orange was a nice bike to ride but I don't yet have the balls or skill to ride it on the "edge". Another reason for having a bike with less travel is to have something easier to pedal allowing me to access trails which I would otherwise have to be driven to (not that I would ever say no to a lift…).
So, am I enjoying my time on the Banshee?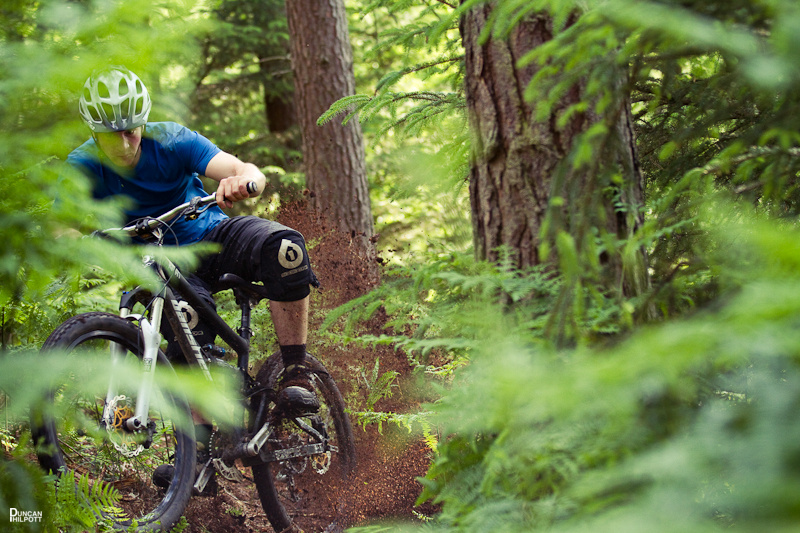 Hell yeah! However, there are still a few changes I would like to make to enhance my experience even more. First of all, the DHX Air shock isn't great. I need to run it at quite a high pressure to prevent it from bottoming out quite so much, however, this reduces the amount of sag. Also, I often blow through the travel on my quite shagged pikes (if you've seen them you'll know how bad they are) so this combination on the steeper stuff can make the head angle pretty terrifying. Solution: Get a coil shock and a better, longer fork! Once that is done I'm pretty sure this bike will fly down a hill with ease. And I cannot wait.
On a side note: I thought it would be a good idea (let me know if you think otherwise) if I posted a youtube clip of either the song I'm listening to when it comes to publishing an article, a song I like at the moment or just something funny at the end of my posts…
Can't go wrong with a bit of Del Boy.
Bonjour!